Step out of the shadow into the light
There was a time, in my early 20's, when I was deeply mired in grief.
My beloved grandmother died just as she was beginning her retirement. So unfair!
At the time she was the most precious person in my world. Days, weeks, months passed, and the grief remained very raw. Many nights I cried myself to sleep.
Finally grief receded into the background, somewhat, yet it still came round now and again in waves of painful remembrance.
Can you relate? Who have you long grieved? Or should I ask how many?
That has all changed for me now. Are you open to having it change for you too?
What are the expectations?
There are some truths I want to share with you from my current perspective of having seen, touched, and spoken, to those who are in spirit.
First: they really want you to let it go and live the joyful life you came to the planet to experience. It's not disrespectful, or disloyal (or any other dis you can think of). They would  rather you remember them with joy and smiles rather than sorrow and tears. That is the way to honor their memory.
Second: understand that they are doing fine — better than fine. You don't need to worry about them. They are moving on with after-life activities. They remain connected to you by love, and will periodically check in on you, as well as come swiftly to your side whenever you call out to them. That's the way it works.
Third, it's a choice to grieve. Whether through societal programming, or whether you're just stuck missing their presence, you can choose to step out of grief at any time.
Making better choices
You can choose to focus on the wonderful memories.
Instead of tormenting yourself with wishing they were here, focus on the precious gems — memories you keep locked deep in your heart. When you choose to do that, you step out of the pain of grief, and into the joy of of your love for them. It's so simple.
I wish someone had taught me this lesson many years ago. It would have saved much pain and suffering. That's why I'm passionate about sharing it with you now. I want to help you step out of the shadow of grief and into the sunshine of celebrating the great blessing of having them in your life, for however long it was.
Healing wisdom and tools
Recently I posted a video on the devastation and grief of miscarriage. I also participated in a Summit on Grief and Healing with my friend Joia Gibble, and I've had a number of conversations about grieving with clients. All of those pieces add up to a "tap on the shoulder" from The Universe pointing out that this tender subject needs a spotlight shined upon it. (Consider it shined.)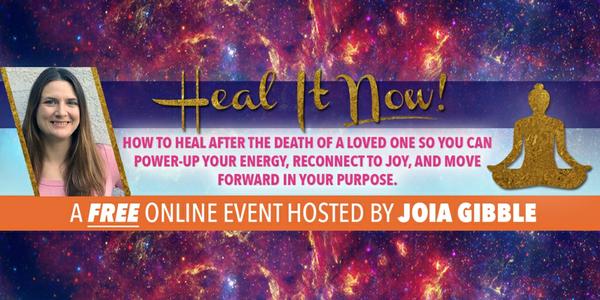 Are you ready to heal?
Click on the image above to register for your free access to the Heal It Now Summit. There are more than 20 experts in this series, all offering free healing tools — something for everyone. Imagine how much richer your life would be if you were able to release grief. Can you even?
Pretty phenomenal! And that's what it's all about. There's an abundance of love, peace and joy waiting for you. All you have to do is reach out and accept it.
Blessings,
Debbra
P.S. Law of Attraction has been working overtime in my life of late. So exciting! I just had an article published in the Conscious Creators magazine and am now officially listed as an Amazon Author. Baskets full of wonderfulness. How is it showing up in your life? Please leave a comment below to share about your magnificent manifestations.